welcome to deptola island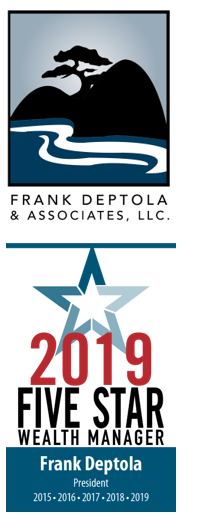 We are a nationally recognized* independent fee-based wealth management firm that works with affluent individuals, businesses, and families.
WHAT WE PROVIDE:
Proactively managed, customized portoflios designed to protect & build wealth

✔

High level personalized service

✔

Personalized advice to help you meet your specific needs

✔

Education on all options available

✔

Ongoing support in the good times & the bad times

✔
BENEFIT TO YOU:
More money & wealth protection to do what you want

✔

A personal experience with advisors who you know have your back

¢Å""

Confidence in a long term plan designed to meet your financial goals

✔

The ability to make fully informed life changing decisions

✔

A long term relationship with advisors who know you

✔
RECENT ACCOMPLISHMENTS & QUALIFICATIONS:
In 2018 Frank was recognized by both The Wall Street Journal (July 25) and Forbes Magazine (June 30) as being one of the top Wealth Managers in the country for four consecutive years with the Five Star Wealth Manager Award**

In 2018, we hosted our 6th annual

weekend retreat in Paso Robles, CA during their wine harvest entitled, "Taking Care of Your Financial Well Being" which attracts upwards of 40 guests from across the country

In 2018 (March), Frank lectured at Cal State University Fullerton's Certified Financial Planing Program (CFP)

In 2017, we participated in National Public Television's 'Front Page' documentary series on Financial Empowerment, which was broadcast in all 50 states by over 200 public television stations
In 2017, a one minute commercial about our role in the 'Front Page' series was shown on Public Television, FoxNews, CNBC, CNN, and MSNBC
In 2017, we produced an objective educational video entitled 'Coordination of SSI/SSDI Benefits for Disabled Relatives' aimed at helping families with special needs individuals protect their financial security. This video has been seen by hundreds of people

In 2017 (December), Frank lecturered at Texas A&M University's Certified Financial Planning Program (CFP)
We are a socially responsible organization and honor our commitment to give back to the communities we serve by annually giving 2% of our net profits to charities.

* Nationally recognized as seen on National Public Television
**Five Star Wealth Manager Award based on 10 objective eligibility and evaluation criteria, including a minimum of 5 years as an active credentialed financial professional, favorable regulatory and complaint history, accepts new clients, client retention rates, client assets administered, education, and professional designations. 2,423 Orange County area wealth managers were considered for the award; 144 (6 percent of candidates) were named 2018 Five Star Wealth Managers (The criteria provided reflects the most recent year for which advisor received the award. The criteria used, the number of wealth managers considered for the award, and the percentage of those who receive the award, may vary from year to year). These awards are not indicative of the wealth managers' future performance. Your experiences may vary. For more information, please visit www.fivestarprofessional.com.