Our Approach
Mission Statement
To deliver a superior wealth management experience with a deep commitment to doing business right – more importantly – doing right by all of our clients and honoring the trust they have instilled in us.

Our commitment to this mission is defined by three core principles: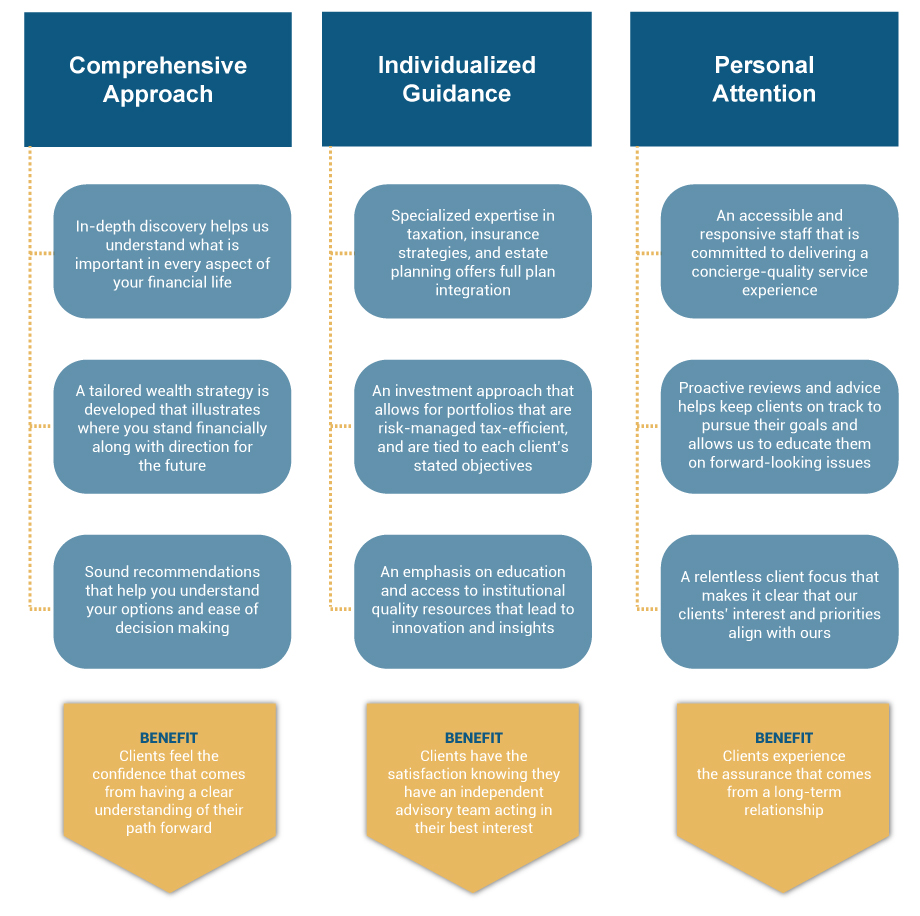 Our Process
Step One:

Before investing, we gain a clear understanding of a client's individual goals and current financial state with an initial meeting.

Step Two: After speaking thoroughly, only then do we customize a tax efficient investment portfolio that tries to meet our client's specific needs.

Step Three: Cross-checking Portfolio Risk and Return, using third party, in-house analysis

Step Four: Review/Fine Tune with Client and produce a final written investment strategy that is agreed upon prior to investing

Our Compensation
Fee-based Fiduciary
As fiduciaries, we have taken an oath to act in the best interest of our clients each and every day. We intentionally compensate our employees with a yearly salary to eliminate any conflict of interest, therefore our employees are not dependent on commissions from transaction sales, do not operate on a commission based pay system and do not rely on a list of vendors provided by our broker dealer.
We operate as fair fee-based advisors and collect a fair fee based on the services we provide. As our client's assets under management grow in value, our compensation grows, in turn, if our client's investments decline in value, our compensation would also decline.
We help ensure our clients with top level guidance using a "balanced" approach, meaning the most appropriate investments for their specific financial goals and objectives. We do our own comprehensive research before working with other firms, mutual funds, ETF's that are competitors. That quickly reveals "balanced" investments to include in our customized client portfolios.