The Deptola Difference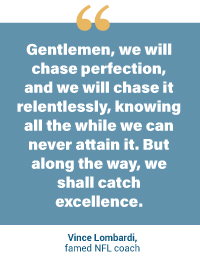 At Frank Deptola & Associates, we exceed industry standards because we view our practice as the benchmark to be measured against. We chase perfection each and every day; we compete against ourselves and our clients benefit from this resilience.
Vince Lombardi once commented that he would give out his playbook with the confidence that no other NFL team would be able to achieve the same successful results because they did not have the same culture, the same training and the same coaching excellence that comes with experience.
In relation to Lombardi's mentality, the 'Deptola Difference,' (our playbook), highlights the strengths in our organization that cannot be duplicated by larger 'big box' financial firms: