Library & Resources
Here you can find company updates, recent articles, videos, and newsletters published by our team that are designed to provide an objective financial education. Simply click on the blue hyperlinks to view your desired content.
Articles & Whitepapers
Special Events, Annoucements & Videos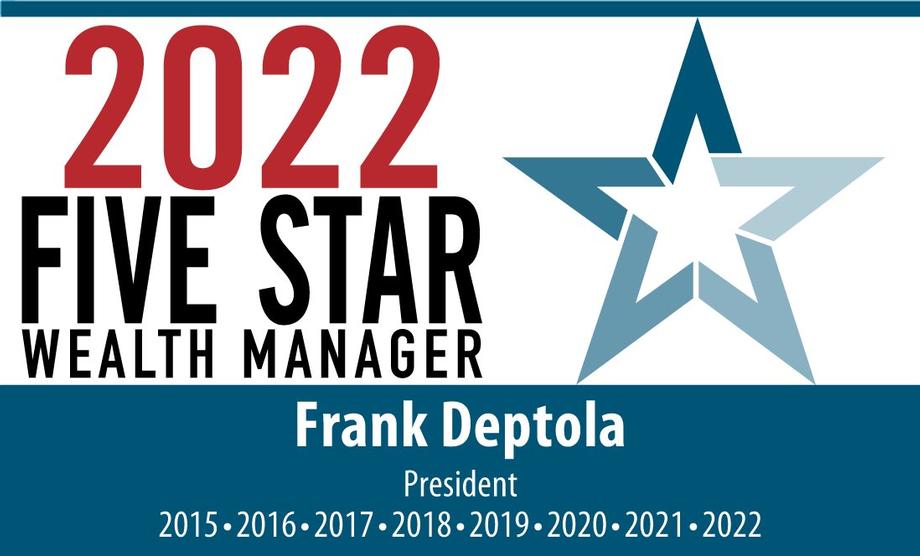 Frank Deptola Named Five Star Wealth Manager for the 8th Consecutive Year
Frank Deptola was recently notified by Five Star Professional that he has again been selected as a 2022 Five Star Wealth Manager. In recognizing Frank, Five Star commented that for 2022 less than 6% of the Wealth Managers in his affluent area of Southern California are expected to be given this distinction:
2022 Wealth Managers Candidates Considered: 2,482
Projected Winners: 137
Projected Winners as a Percentage of Candidates Considered: 6%

Five Star will be finalizing their list of award winners over the next several weeks. Frank again will be recognized for this achievement later this year in the Wall St. Journal, Fortune, Forbes, and in Orange Coast Magazine.
*Five Star Wealth Manager Award based on 10 objective eligibility and evaluation criteria, including a minimum of 5 years as an active credentialed financial professional, favorable regulatory and complaint history, accepts new clients, client retention rates, client assets administered, education, and professional designations. 2,482 Orange County area wealth managers were considered for the award; 137 (6 percent of candidates) were named 2022 Five Star Wealth Managers. (The criteria provided reflects the most recent year for which advisor received the award. The criteria used, the number of wealth managers considered for the award, and the percentage of those who receive the award, may vary from year to year). These awards are not indicative of the wealth managers' future performance. Your experiences may vary. For more information, please visit www.fivestarprofessional.com.
---
WE HELD OUR 6th ANNUAL PASO EVENT WHERE WE SHOWED THIS VIDEO FROM PAST EVENTS
---
FRANK DEPTOLA TEACHES TEXAS A&M CFP STUDENTS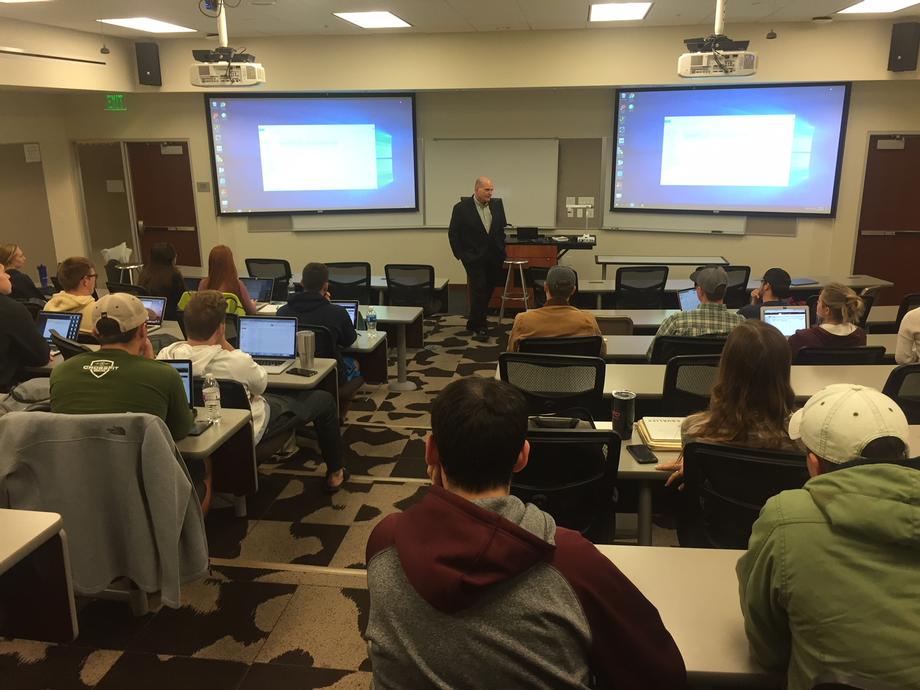 Dr. Nathan Harness, Director of Texas A & M's Certified Financial Planning (CFP) Program asked Frank Deptola to come to their campus and teach the final class session for students enrolled in the introductory course of the program. Texas A & M is arguably one of the leading CFP programs in the country. With over 150 students, Texas A & M focuses on teaching students how to build a practice based on excellence, ethics, integrity, leadership and entrepreneurship. Values that Frank Deptola has built his company around and has earned a national reputation in the wealth management field.
During his December 5 visit to their College Station, TX Campus, Frank had the opportunity to have lunch with a group of select senior students, and other faculty and administrators of the program including Cagla Yildirim, Christopher Moore, and Jeanue Izurieta. Ms. Yildirim will soon be starting a financial planning program at New Mexico State University, and Mr. Moore heads the financial readiness program for the Texas A & M military cadets. Ms. Izurieta is the Administrator for the program.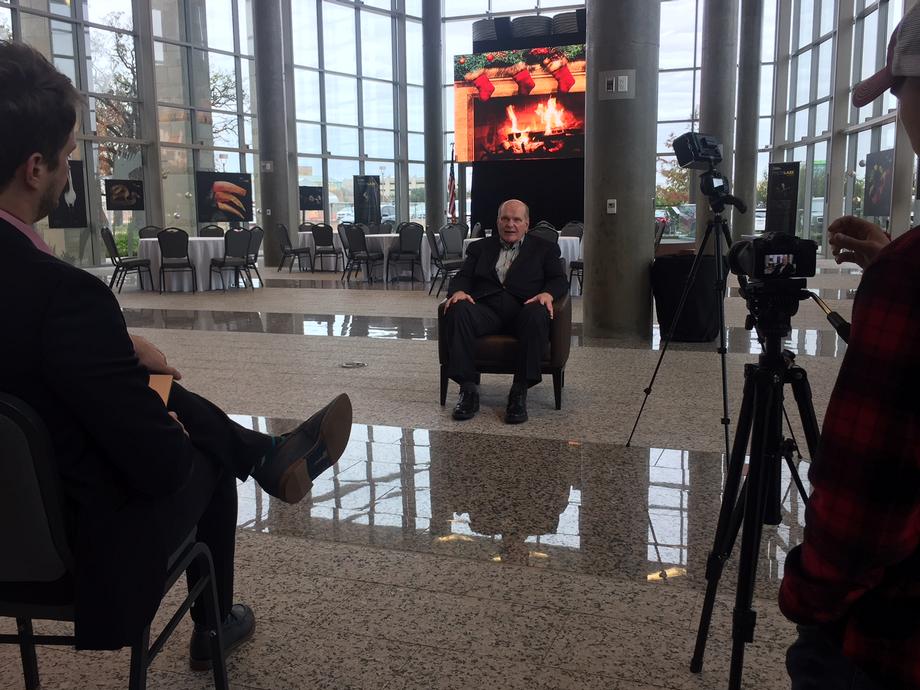 After lunch, Frank taught an academic class that focused on three key areas in support of Dr. Harness' goals. First, the importance for each student to develop a straight forward easy to understand value proposition that shows in a simple three point graph what they do, and how it benefits the client. Second, he reviewed construction of a sample portfolio showing his methods which are based on a sophisticated graduate level understanding of finance and taxation. One that uses the 'best practices' in the industry, modern portfolio theory, and cross-checking against different metrics in an effort to achieve higher and more consistent returns while at the same time taking less risk than a properly selected risk-adjusted benchmark. And finally, he showed a two minute video of Wealth Harbor. Wealth Harbor is Frank Deptola & Associates brand for a client portal that allows them to thoroughly organize and store all their financial affairs, and also see on a daily basis updated values of all of their assets and liabilities.
A number of the students came up after class with specific questions. This was followed by Dr. Harness interviewing Frank with questions designed to bring out fundamental values that made him who he is today. An entire tour of the Texas A & M campus was also given. After seeing the size and scope of Texas A & M, the quality of its students, and the high level of commitment to excellence of Dr. Harness and his staff, it is obvious as to why their CFP program is helping set the standards in university based programs.
---
COORDINATING SSI/SSDI BENEFITS FOR DISABLED RELATIVES
Frank Deptola dives into the complex and important discussion of SSI, SSDI, their differences, benefits, and qualifications. With a few very relevant hypothetical case studies included, there is a lot of great information and education to be gained. Feel free to watch it as many times as you wish. Please use the 'Contact Us' tab at the top of the page to reach out for any specific questions, further information or additional resources to go along with this video.
Case Study 1: SSI/SSDI BENEFITS FOR AN ADUALT CHILD WITH AUTISTIC SPECTRUM DISORDER
This case study is from our complete film on SSI/SSDI Benefits. This case study involves the topic of having a child with autism and preparing for their future.
Case Study 2: SSI/SSDI BENEFITS FOR A DAREDEVIL ADULT CHILD & TIPS TO AVOID YOUR OWN FINANCIAL DISASTER
This case study is from our complete film on SSI/SSDI Benefits. This case study involves the topic of having an adult child, with a love for dangerous activities, and an accident that could financially destroy their family.
Case Study 3: SSI/SSDI BENEFITS IF YOUR SPOUSE IS SUDDENLY DIAGNOSED WITH TERMINAL CANCER
This case study is from our complete film on SSI/SSDI Benefits. This case study involves the topic of a terminal illness diagnosis and the steps and response a family may take.
---
DEPTOLA PUBLIC TELEVISIONS 'FRONT PAGE' COMMERCIAL
We had the honor and privilege of participating in 'Front Page', a public television documentary on Financial Empowerment. Here is the commercial from it. For the full short documentary, please refer to the video on our home page or keep scrolling down. Thank you!
---
DEPTOLA PUBLIC TELEVISIONS 'FRONT PAGE' Documentary Series
Frank Deptola was selected to participate in Public Television's program, Front Page, as a content expert in an upcoming short-form standalone documentary series on Financial Empowerment. The Financial Empowerment series is aimed at providing objective education on personal finance to public television viewers across the nation. The host of FRONT PAGE is James Earl Jones. The following documentary has been distributed to Public Television stations in all 50 states. Airing of the segment is for unlimited broadcast at each stations' discretion (estimated viewership and reach for one year is 60 million households). The format of the Public Television segment is non-commercial and strictly educational in nature.
For content from earlier years please contact our office. Thank you!